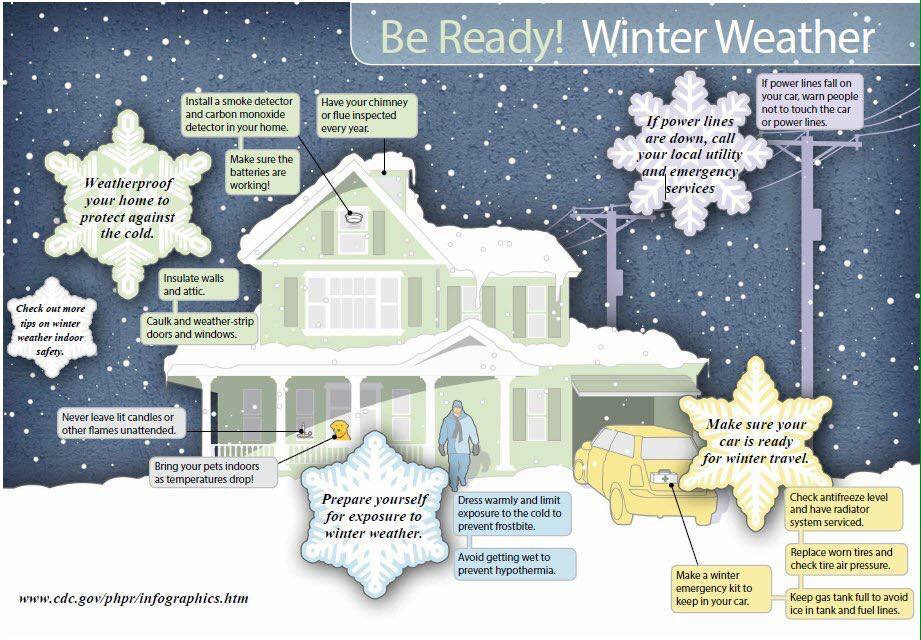 Winter Weather Reminders
Don't let the mild weather that we have been experiencing fool you, winter weather is right around the corner. This week is Ohio Winter Safety Awareness Week. Whether you believe what the Farmer's Almanac predicts for our region this winter or the reports of a La Nina type winter, we still need to get prepared for the winter weather that can hit Northwest Ohio. We need to dress for the cold, multi-layer of loose clothing, have our faces covered, and wear gloves or mittens and heavy socks. Ears, nose, fingers and toes are the most vulnerable to frostbite. Our bodies react differently to extreme conditions as we age. Among other factors, young children play outside in the snow and tend to get their clothing wet. This draws the heat away from their bodies quicker. Adults that work out in the frigid temperatures, not only need to dress for the climate but get out of the weather and warm up on a regular basis. And let's not forget the elderly, older adults are at a higher risk because they tend to lose body heat more quickly and are more likely to take medications that affect their ability to regulate body temperature. As a result, they are at higher risk for complications from hypothermia, frostbite and other cold weather illnesses and injuries. When the snow falls and the mercury drops, call or visit older friends, neighbors and loved ones to ensure they have what they need to stay warm and healthy.
Let's not forget to winterize your vehicle as well, check or have a mechanic check on the following items on your vehicle:
Antifreeze levels – ensure antifreeze levels are sufficient to avoid freezing.
Battery & Ignition System – should be in top condition and battery terminals should be clean.
Brakes – check for wear and fluid levels
Exhaust System – check for leaks and crimped pipes and repair or replace as necessary. Carbon monoxide is deadly and usually gives no warning.
Fuels &Air filters – replace and keep water out of the system by using additives and maintaining full tanks of gas. A full tank of gas will keep the fuel line from freezing.
Heater & Defroster – ensure it works properly.
Oil – check for level and weight. Heavier oils congeal more at low temperatures and don't lubricate as well.
Thermostat – ensure it works properly
Windshield Wiper Equipment – repair any problems, replace blades and maintain proper washer fluid levels.
Tires – make sure the tires have adequate tread. All-weather radials are usually adequate for most winter conditions.
Update the emergency kit in your vehicle, when it comes to winter weather. Have the following additional items in your vehicle…
Shovel – Tow strap
Windshield scraper and small broom – Road salt & Kitty litter
Water & Snack foods – Matches
Extra hats, socks and gloves – Necessary Medications
Blankets
A friendly reminder, from the Paulding County EMA…